校准传感器
The UX2 Sensor is an external calibration sensor for medical monitor use. It measures many monitor characteristics such as brightness and gradations, and corrects any changes.
>
Long Term Stability and Performance

Typical sensors are easily influenced by environmental changes in humidity, causing a drop in performance. To combat this, the UX2 Sensor was designed using the same technology as our built-in LCD monitor calibrators. Compared to the previous model, the UX2 Sensor is more resistant to humidity and impact, and carries out stable measurements and performance for long-term reliability.
Easy to Use
The UX2 Sensor is equipped with an LED indicator to indicate when the sensor is successfully connected to the monitor. Furthermore it has a protective cap that prevents the calibrator from becoming dirty when not in use, ensuring continued quality performance.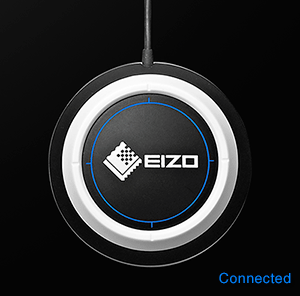 LED Indicator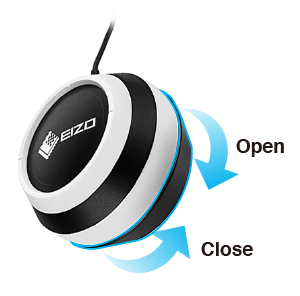 Protective Cap
Lightweight and Simple Design

The UX2 Sensor has a black and white design to match our range of RadiForce medical monitors. Its EIZO original design displays a white ring around the side for a simple and lightweight design.
Compliance with Quality Control Standards
When used in combination with our medical monitor quality control software RadiCS, the UX2 Sensor complies with quality control standards of various countries such as JESRA, AAPM and DIN; ensuring uniform brightness and gradation according to these standards.




Compliance with DICOM Part 14

When used in combination with our medical monitor control quality software RadiCS, the UX2 Sensor is able to calibrate with high precision according to DICOM Part 14 standards, correcting for changes in monitor characteristics caused by aging.
Simple Connection

The UX2 Sensor can be easily connected by plugging it into the monitor via USB, and then connecting the monitor to the PC via USB.
Compatible models
RadiForce
Monochrome Monitors
5MP
GX550, GX540, GX530, GS521-ST, GS521, GS520, GS510
3MP
GX340, GX320, GS320, GS310
2MP
GX240, GX220, GS220
Color Monitors
8MP
RX850, RX840-MG, RX840, MX315W
6MP
RX660, RX650
5MP
RX560
4MP
RX440, RX430, MX300W
3.7MP
MX270W
3MP
RX360, RX350, RX340, RX320
2.3MP
MX242W, MX241W, MX240W, MX220W
2MP
RX250, RX240, RX220, RX211, MX215, MX210
1MP
RS110, MX194, MX191
Quality Control Software & Tools
QC Software & Calibration Sensor
RadiCS UX2
UX1 Sensor is recommended for RadiForce MX300W, MX240W, MX220W and MX210.
| | |
| --- | --- |
| 接口 | USB |
| 尺寸 | Φ70.0 x H 44.0 mm |
| 重量 | 100 g |
| 包装内容 | 存储盒,吸附片(更换使用),清洁布,UX2使用说明书 |